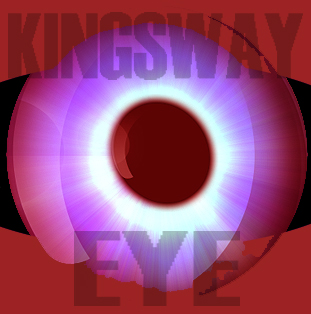 Latest news
After a development day in January 2010, facilitated by Duncan Wallace, it was decided that Kingsway Eye would aim to become a self-running and self-managed group independent of Diversity Films, having received support, including donated equipment, for nearly three years through its Community Filmmakers Project and brand new.
Diversity Films will continue to support Kingsway Eye in its aims as an associate community group.
Kingsway Eye are also on Facebook – Join them there
Kingsway Eye can be contacted directly at hello@kingswayeye.co.uk
---
Films
Click here to watch Kingsway Eye films made under the auspices of Diversity Films.
Films Kingsway Eye have made through the brand new programme can be viewed on the brand new films page.
---
3rd August 2009
Through brand new Community TV, Kingsway Eye have spent the Spring and Summer months working on Get Real! episodes 2, 3 and 4.
Filming of Episode 4 at the Glasgow River Festival has just been completed. Watch Get Real! episodes here
---
22nd January 2009
Huge congratulations to Kingsway Eye members, Noreen Real and Jean Donnachie, who have won the 46th Scotswoman of the Year 2008! And a huge thank-you too, to these two fine women for everything they have done with Diversity Films since we started out.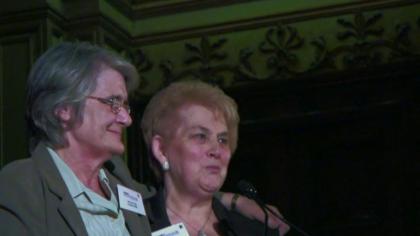 Noreen Real and Jean Donnachie in Get Real! 2
---
14th January 2009
Kingsway Eye members, Noreen Real and Jean Donnachie, have been nominated for Scotswoman of the Year. Noreen and Jean have been an inspiration to us in the time we've known them and everyone at Diversity Films is backing these two fabulous women all the way. They are true examples of what makes a difference in this world.
---
December 2008
The main aims of Kingsway Eye are to:
Tell stories from the Kingsway Court community
To bring issues in the community forward using films
To involve the community in taking local action
To create change in our everyday situations
We are holding a Kingsway Eye Open Day on Saturday December 13th between 11.00 am and 4.00 pm to show everyone in the community what we've been doing and invite you to join us.
If you would like to learn how to make films, tell stories and create change, please come along to meet us and find out more. You can also sign up at the Kingsway Court Health and Wellbeing Centre, Block 50, Kingsway Court.
Christmas refreshments will be provided as well as taster sessions in filmmaking, film screenings, tombola and a few more surprises.
---
October 2008
Fresh from their showcase event at the Scottish Mental Health Arts And Film Festival, Kingsway Eye are meeting on Saturdays, 11-2pm at the Kingsway Court Health and Wellbeing Centre, Block 50, Kingsway Court, Scotstounhill, G14 9SR
---
August 2008 – A year on…
The filmmakers group Kingsway Eye has now been running for a year as one of the community development aspects of the Kingsway Court Health and Wellbeing Centre.
Kingsway Eye was set up and is supported and resourced by Diversity Films in partnership with Kingsway Court Health and Wellbeing Centre. In the first year a core group of local people have become active filmmakers together with a wider group of participants. They have made several significant films about local issues such as poor housing and have played their part beginning to influence by using films. One of the large current projects is Get Real! – a community based internet chat show. The group range in ages, nationality and background, showing the inclusive nature of this work.
Currently, the funding supporting this first part of work has come to an end and so the group, together with those supporting are currently working to keep the group, its achievements and ambitions alive and well.
---
Visions for the Future
Thanks to a development day, facilitated by Duncan Wallace and funded by Kingsway Health and Wellbeing Centre, this summer the group benefited from reviewing what they have achieved in the last year, identifying their visions for the future and working towards a development plan for Kingsway Eye for 2008/9.
Participants included Noreen, Jean, Leo, Miana, Eddie, Allan and Declan from the group together with Martin from Kingsway Court Health and Wellbeing Centre as well as Abigail and Marie from Diversity Films.
The Garden of Kingsway Eye
The flowers are unhappy, surrounded by weeds – apathy, fear, poverty
Kingsway Eye started to show where the weeds were and where the flowers were. Gradually the people were able to sort these out and start their own process of weeding.
Now there is space for the flowers to grow. With constant weeding, by many of the people, the flowers can flourish and everyone can value the garden.
---
The Tools in the Garden
Step one in the development and maintenance of Kingsway Eye 2008/2009 is to spread the word and involve more of the community in Kingsway Eye's film projects and training workshops – in front of and behind the camera, sharing stories and visions to create more skills, films with impact and a better world for everyone involved.
Where better to start than the annual International Kingslink Carnival, August 30th where the team were out in force enjoying the day and sharing the spirit of Kingsway Eye with the community – both young and young at heart.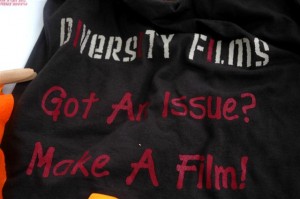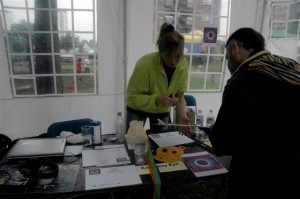 There's no shortage of people signing up!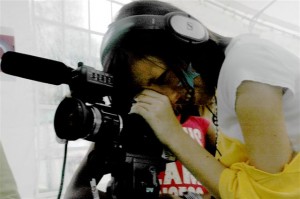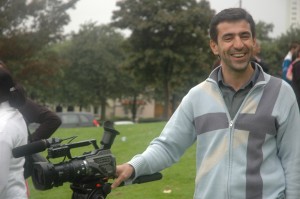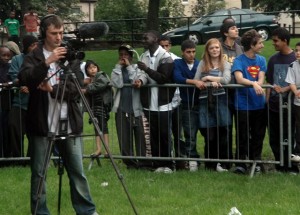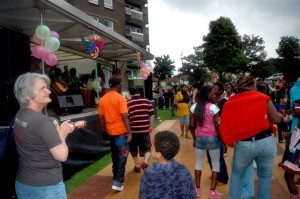 ---
The Flowers in the Garden
Get Real! – Episode 1 features chats and cups of tea with Scottish actor/director Peter Mullan and singer Nikitta Angus, community information from the Kingsway Health and Wellbeing Centre and Drumchapel Law and Money Advice Centre and a jazz interlude from the Michael Roshkov quartet.
Get Real! – Episode 2 is currently in production and sees the Kingsway Court community tackling recycling and green issues and roving reporter Noreen Real joining the citizens of Glasgow in summer celebrations and fun on Glasgow Green.
Miana's Project
New member of Kingsway Eye, Miana has been working on her first film, about her future in Scotland as a refugee. Miana is a very busy lady, spending much of her time volunteering, not only with Kingsway Eye and Diversity Films but also the British Red Cross and is studying engineering at North Glasgow College.
Kingsway Come Dancing
Produced by father and son team, Sergey Sedounov and Leo Saidenough, Kingsway Come Dancing is about two teenage Russian ballroom dancers from Kingsway Court, Denis Megdalskiy and Irina Severinchik, who have been all round the world competing in dance competitions.
---
Kingsway Eye has received funding from by Scottish Screen, Paul Hamlyn Foundation, Scottish Community Foundation and 4Talent (2007–10)