It's Ok To Ask…
Published: May 6, 2011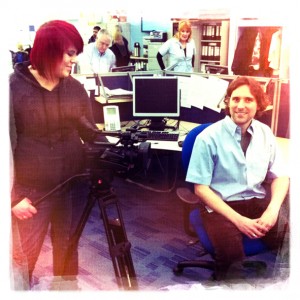 An average of two people die by suicide each day in Scotland. People living in more deprived areas are at greater risk, and young people are particularly vulnerable.
It's OK to Ask is a short documentary made to raise awareness about health, wellbeing and suicide prevention in Glasgow. Led by filmmaker, Abigail Howkins, the film was developed and produced by a group of young people in North Glasgow.
They also worked with Abigail and fellow filmmaker, Basharat Khan, to create 'making-of' clips of the process to share across social networks.
The film, which was commissioned by Positive Mental Attitudes, and made with support from Lifelink. It was shared through the NAEdrama project on YouTube, Facebook and Twitter.
It is also hosted on the Mindreel website which is an initiative to unlock the educational potential of the films that have been submitted to the Scottish Mental Health Arts and Film Festival since its inception in 2007.
Watch It's OK to Ask here:
---
Watch NAE drama 'making-of' clips:
NAEdrama: Making Of, Day 1 – Getting Started
An insight into the start of us making the video.
---
NAEdrama: Making Of, Day 1 – What's It About?
Talking to the cast about their lives and how they deal with pressures.
---
NAEdrama: Making Of, Day 1 – 8mm
A quirky glance behind the scenes of filming.
---
NAEdrama: Making Of, Day 2 – Pressure
The group discuss the pressures that young people face in life.
---
NAEdrama: Making Of, Day 2 – Media pressure
The group discuss the pressures young people face from the media.
---
NAEdrama: Making Of, Day 3 – Language
The crew brainstorm and discuss about mental health issues.
---
NAEdrama: Making Of, Day 4 – Filming in North Glasgow
A day of the team filming in Glasgow.
---
NAEdrama: Making Of, Day 5 – Interview in the Park
Behind the scenes of filming in a park in Glasgow.
---
NAEdrama: Making Of, Day 6 – Breathing Space
Everybody needs some Breathing Space.
---
Archive posts:
---
NAE Drama
Published: April 4, 2011
Fortunately, we don't mean the creative short film version of drama which we definately hope to do more of!
No, it's that other kind of drama we're talking about, the stressful kind we can all do without, when life is throwing everything at us and sometimes it's just too much.
Kicking off 2011, Diversity Films are working with Positive Mental Attitudes, NHS Health Scotland and Lifelink on a documentary film project aimed at 16-19 year olds in North And East Glasgow looking at issues around keeping well, keeping happy and looking out for our friends when they need help, especially in a crisis.
We'll be working with young people in the area to help develop the content of the film as well as get involved in film-making through producing a 'Making-of' film of the process.
The film and associated content produced around the film will be shared on Facebook, Twitter and YouTube aiming to open up a dialogue around the issues, including youth suicide and help raise awareness among young people about how they can help themselves and their friends get through the most difficult times in their lives.
facebook.com/NAEdrama
twitter.com/NAEdrama
youtube.com/NAEdrama
Images by Basharat Khan